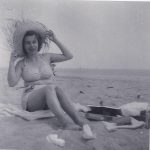 I suppose that when a loved one passes, those left behind often have a "one more" wish. One more talk, one more hug, one more day, etc. For me when I learned my mother's cancer was out of control, my one more was one more trip.
My mother was an inspiration to me in so many ways. She loved her family, she loved life, she appreciated things, even small, insignificant things and she loved to travel. My sister and I were the youngest and when we moved out of the house mom's travel plans switched into high gear. Since my dad didn't have the same desire mom joined clubs, the Sierra Club and Canyon Explorers so she'd have travel companions.  She learned to ski and backpack in her sixties and embraced both pastimes with passion. Over the years she backpacked Mt Whitney, skied in California, Colorado, Oregon, Montana, Canada, and Switzerland. Rode her bike in Alaska and enjoyed every journey. She kept in touch with this group for years, often telling stories about their travels and the great times everyone had.
Later, when I graduated from college, I became a travel companion. Mom and I made annual ski trips to Mammoth and summer trips to Oregon. She was always looking forward to the next trip, had one planned with her club in May of 2013. I had a trip planned with her to Hawaii in November of this year. But the cancer cancelled those plans and my one more trip with my mom was not to be.
Over the years, mom rarely complained, took care of my father who often complained and made the house I grew up in a home in every sense of the word. I would come home for Sunday dinner and she would be in her element fixing something special, whether it was just my dad and me or I'd brought friends. Every Thanksgiving for 40 years it was my mother's pleasure to fix a big dinner for family, extended family, and anyone else who happened along. Some of my fondest memories are of those Thanksgivings and my mother's meals. She cooked with love.
As age began to catch up with her she endured two knee replacements, a broken hip, a hernia operation and a minor stroke. (After her second knee replacement, at the age of 86, she asked the doctor if she could go skiing again. He said no and she was crushed)
After she passed I found a saying she kept on her desk. She'd typed it on a small card and then laminated the card. It reads,
"Clock of Life. The clock of life is wound but once and no one has the power to tell just when the hands will stop, on what day, or on what hour. Now is the time you have so live it with a will. Don't wait until tomorrow the hands may then be still."
My mom didn't wait and she lived a long and glorious life. We knew she had cancer, had known for about a year. But until it began to rob her of breath my mom kept living, planning and being a shining example of a mom.
One of my mother's favorite stories to tell of my dad was that when they met, he followed her home on the bus.  A little over three months later they were married and that marriage lasted 68 years until his death. The end of the story today is that a little after three months my mom's last trip was following my dad home and there they'll be together for eternity.
I miss you and I love you Mom and look forward to seeing you again in heaven.