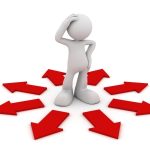 The other day I plugged my ipad in to my computer and was greeted by a notification that an upgrade was available. I pressed the upgrade button and was warned to be sure my apps were backed up first. Canceling the upgrade I tried to follow the directions for backing the ipad up but no matter how carefully I read, and how carefully I followed the instructions, I couldn't be certain my apps would be saved. In frustration I decided I didn't need to upgrade.
Later, a friend told me that I needed to upgrade or eventually the ipad wouldn't work properly. She suggested I make an appointment at the Apple store. As I contemplated her advice, (it's a hassle to go to my Apple store, it's in a big mall and I just don't like going there) I sat back and wondered when technology got ahead of me. I'm not a techno geek, but I at least used to be able to keep up.
Then I realized that the fact that nothing stays the same really bugs me. I liked the first Facebook, it keeps changing, I liked Windows a few versions back, it keeps changing and the same can be said for Word. When I purchased my IMac, at first it worked like a dream but, you guessed it, there was an upgrade, I down loaded it, and the IMac has never been the same. The "improvement" sucks.
Maybe this failure to keep up is a subconscious rebellion against the changes, upgrades, and so called improvements that I don't want or need but that someone keeps implementing. Sometimes you can get away with not upgrading, but it usually catches up and you're forced to move on. Like my friend said, I needed the upgrade so the ipad would keep operating properly.
I pouted for a bit, then considered the Apple store, then plugged in my ipad and decided to work it out myself. A half hour later I had successfully upgraded my ipad and had not lost any apps. Success? I don't know, that all depends on whether or not the upgrade is really an improvement.