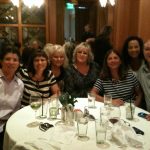 When I was a kid in Girl Scouts we used to sing a song that went something like this: "Make new friends but keep the old, one is silver and the other gold."
I liked that song, sang it often because the tune was easy for me to carry. But it's only as I get older that I really appreciate how true the line is and how special beyond explanation are good friends.
Old or new, good friends should be cherished and appreciated. I recently regained touch with an old friend, a girl I grew up with, she lived down the street and we became fast friends in the third grade. Now in our fifties, and living in separate parts of the state, we got back in touch after our fathers died two weeks apart. It was as if the years and the distance disappeared. We remembered the old days, we remembered our dads and we cried and laughed together.
Now, way too soon after burying my dad, I'm taking care of my mom as cancer dictates her end. Friends from church, some new, some old, have been a support I couldn't do with out. One very special friend has come to stay with us from time to time, she rubs my mother's feet and takes care of the flowers and is often just there when there in nothing to do and no words are appropriate.
I could go on an on because the Lord has blessed me with many good and dear friends, people who hug, pray, and are just there when there is a need. Every good and perfect gift is from the Father above and I thank Him for my good and perfect friends.
Now, when I sing "Make new friends but keep the old, one is silver and the other gold," It's not just because I like the tune it's because I know from the bottom of my heart how true the words are and how very, very precious are each and everyone of my friends.