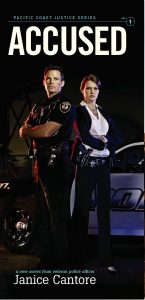 This is a re-post of a blog I wrote back in October. Accused is out now, so hopefully those of you who have read the book will be interested in learning a little bit more about the star, Detective Carly Edwards.
Carly Edwards is the main character of my upcoming novel, Accused. Recently, members of my writers group, the Reunioners, gave me some questions to ask her.
A little back ground on Carly, she's been a police officer with the Las Playas Police Department for ten years. Las Playas is a medium sized Southern California Beach City near the city of Los Angeles. Carly likes to work in a patrol car, but when the story opens she's working the night juvenile booking desk.
Question- Why did you choose law enforcement as a career?
Carly: I envisioned the job as an outside job with a lot of variety. I wanted to be out and about, not confined to one place. I also wanted to help people, to perform a needed service. Patrol work fits the bill nicely.
Question – What did your folks think of the job choice?
Carly: My dad didn't like my choice. He told me police work would make me hard. But before he died he saw how much I liked the work and how much good I could do and he told me he was proud of me. My mom has never liked my choice, and has told me she wished I picked another line of work. But, she also always tells me she prays for me.
Question – Did you ever feel the need to prove yourself beyond normal expectations because you were a woman?
Carly: Yes and no. By that I mean there are some older guys around who don't approve of women in police work and when I was a rookie I sometimes felt I had to work harder to prove to them I belonged. But I soon learned that just doing my job to the best of my ability was the best way to fit in. I think I've earned the respect of my peers by being a hard worker.
Question: Have you ever had to shoot someone?
Yes, I have. I shot a man I thought was lunging toward me with a weapon. It turns out it was not weapon, but a tool he'd fashioned to a point in order to collect aluminum cans. I realized my mistake but unfortunately my partner that night, Derek Potter, didn't. I was involuntarily transferred to the night juvenile desk because of the incident. Right now I just want to get back to the streets and that's all I want to say about the shooting.
For more about Carly, the shooting and her quest to get back to patrol, you need to read the book, Accused, now available, Tyndale House Publishers.