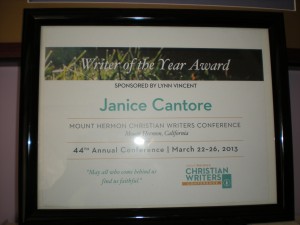 When I first started attending Writer's Conferences, I was brand new to writing stories. All I had under my belt were some badly written short stories and a burning desire to learn if it was even possible for me to write stories people would read. I think I heard about conferences from a writing class. The first one I attended was bumpy and one I will never forget. One published author I spoke to there loved my story idea and pointed out an editor who she was certain I "needed to speak to." I did, and he hated what I showed him. Not that he hated my idea, but the writing so offended him he didn't get past the first paragraph in the fifteen minutes we had together so he never heard the idea. I left that day defeated, clinging to the words of the published author, "you've got a great idea here," and trying to work the sting out of my encounter with the editor.
I kept writing and revising and heard at other conferences that you could learn your craft, no one is born writing best selling novels, everyone has to start somewhere. Many lectures and many writing books later I know that for me, the learning will never stop. My first conferences were a blur of rushing from workshop to workshop, polishing the book, working up the courage to pitch, being rejected and starting all over again. Along the way, among the rejections, I kept getting little tidbits from people who encouraged me to keep trying, not to give up, everyone gets rejections you just have to learn from them. I developed a love/hate relationship with writer's conferences. At one my confidence would be buoyed, and at the next shattered because it seemed as though I would never "arrive." By the time I'd finally signed a contract with a publisher, grabbed the brass ring I'd been trying for for years, I hadn't been attending conferences, the last one had been a negative experience.
But it soon became obvious that signing a publishing contract does NOT mean that all the hard work is over, it is just beginning in a new phase and I needed to learn about this new phase. A writer's conference was the place to go. Now, facing a different kind of pressure in my writing career, I found there is a lot more to a conference then rushing to and from workshops and learning to pitch. There is a community of like minded people with like fears, failures, successes and insecurities, who can help me and who I can help. There is also a wealth of knowledge available from those who come to teach, people who have best sellers and multiple contracts behind them.
This year I headed up to the 2013 Mt. Hermon Christian Writer's Conference with few expectations. I just wanted to be with other writers, to learn from those who've been successful, keep working on my craft, and hopefully encourage the new comers. By the last night of the conference I felt I'd accomplished these things and felt the entire conference had been a success. I was not prepared for one of the biggest honors I have ever received when I was awarded the Writer of the Year Award. It was a surprise I doubt I'll ever forget, and humbling because I doubted that I deserved it. There was so much talent at that conference and many other writers that I would have cast my vote for if I'd been asked. But I will be forever thankful. The award is a welcome surprise and as I remember my first writer's conference, I am so glad I stuck with it.