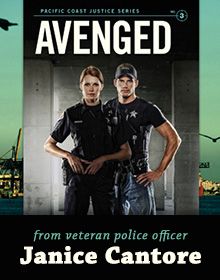 Avenged is the third installment in the Pacific Coast Justice Series!
When Officer Carly Edwards finds three young gangbangers shot execution style, she and her husband, Sergeant Nick Anderson, head of the gang unit, fear Las Playas may be on the verge of a gang war. The Las Playas PD is put on high alert as tensions escalate between rival gangs, especially after Carly confiscates weapons from a gang leader and learns they were stolen from a military base along with explosive devices.
But something doesn't add up, and Carly suspects there might be more going on. As she prepares to testify at a major trial, Carly's reputation is shredded by a reporter apparently trying to discredit her professionally. Facing pressure on all fronts, Carly must rely on faith and trust God in a deeper way during on of the biggest struggles of her career.
More info →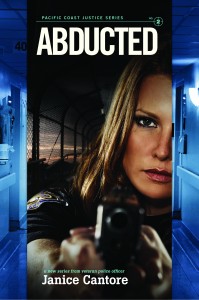 "Abducted is a riveting suspense…and the many turns keep the reader puzzled. The book is a realistic look into the lives of law enforcement officers. Abducted is one book I could not put down. Can't wait to see what Carly and Nick might be up to next." PAM Daysongreflections.com
Abducted is the exciting second installment in the Pacific Coast Justice Series!
After solving the Mayor's murder and exposing corruption among the top brass in Las Playas, Carly Edwards is happy to be back on patrol with her partner Joe, putting bad guys behind bars. For once everything in life seems to be going just right. But then everything starts going wrong. Slow to recover from an injury, her ex-husband Nick, begins pulling away just as they were starting to get close again. Meanwhile when Joe's wife lands in the hospital with a mysterious illness, their baby is kidnapped. As Carly chases down every lead in a desperate search to find the baby, her newfound faith is pushed to its limits.
More info →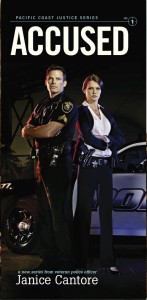 When troubled youth, Londy Akins, is arrested for the murder of the mayor, he asks for ten-year veteran Detective Carly Edwards. Plucked from her normal assignment in juvenile investigations to assist homicide, Carly recognizes him as one of her mother's church reclamation projects. Irritated by her mother's belief that God can change anyone, which Carly views as dangerous wishful thinking, Carly presses the kid for a confession that will fry him and bring her a commendation. But Londy doesn't confess. He insists he's innocent. Further, he tells Carly he's a new Christian, not a murderer.
The young man's profession of faith in a God Carly swears doesn't exist steels her resolve to prove him a liar. However, the only evidence she digs up corroborates Londy's story and she has no choice but to believe him. She gives Homicide what she's uncovered and finds herself treated like an unwanted stepchild, kicked off the case and sent back to Juvenile. Homicide is certain of Londy's guilt and Carly's evidence is ignored.
Stunned, surprised, and fearing a cover up, Carly disobeys a direct order and continues to investigate on her own. She finds an unlikely ally: her ex husband, Nick, also a police officer. Divorced a year ago because of his infidelity, Carly is wary of Nick's extended hand of friendship, more so when he tells her he's a changed man; he's also a renewed Christian. Their only common ground is they both believe Londy is innocent.
Carly and Nick jump into the investigation and as her life begins to spin out of control, Nick becomes an anchor. But will that hold as lives and careers are threatened?
Question: What will it take for Carly Edwards to realize that the key to survival is not holding on tight, but letting go and letting God take control?
More info →