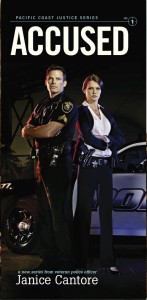 When troubled youth, Londy Akins, is arrested for the murder of the mayor, he asks for ten-year veteran Detective Carly Edwards. Plucked from her normal assignment in juvenile investigations to assist homicide, Carly recognizes him as one of her mother's church reclamation projects. Irritated by her mother's belief that God can change anyone, which Carly views as dangerous wishful thinking, Carly presses the kid for a confession that will fry him and bring her a commendation. But Londy doesn't confess. He insists he's innocent. Further, he tells Carly he's a new Christian, not a murderer.
The young man's profession of faith in a God Carly swears doesn't exist steels her resolve to prove him a liar. However, the only evidence she digs up corroborates Londy's story and she has no choice but to believe him. She gives Homicide what she's uncovered and finds herself treated like an unwanted stepchild, kicked off the case and sent back to Juvenile. Homicide is certain of Londy's guilt and Carly's evidence is ignored.
Stunned, surprised, and fearing a cover up, Carly disobeys a direct order and continues to investigate on her own. She finds an unlikely ally: her ex husband, Nick, also a police officer. Divorced a year ago because of his infidelity, Carly is wary of Nick's extended hand of friendship, more so when he tells her he's a changed man; he's also a renewed Christian. Their only common ground is they both believe Londy is innocent.
Carly and Nick jump into the investigation and as her life begins to spin out of control, Nick becomes an anchor. But will that hold as lives and careers are threatened?
Question: What will it take for Carly Edwards to realize that the key to survival is not holding on tight, but letting go and letting God take control?
More info →