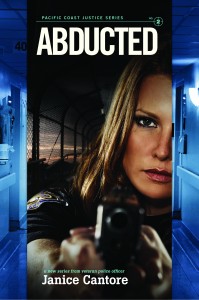 "Abducted is a riveting suspense…and the many turns keep the reader puzzled. The book is a realistic look into the lives of law enforcement officers. Abducted is one book I could not put down. Can't wait to see what Carly and Nick might be up to next." PAM Daysongreflections.com
Abducted is the exciting second installment in the Pacific Coast Justice Series!
After solving the Mayor's murder and exposing corruption among the top brass in Las Playas, Carly Edwards is happy to be back on patrol with her partner Joe, putting bad guys behind bars. For once everything in life seems to be going just right. But then everything starts going wrong. Slow to recover from an injury, her ex-husband Nick, begins pulling away just as they were starting to get close again. Meanwhile when Joe's wife lands in the hospital with a mysterious illness, their baby is kidnapped. As Carly chases down every lead in a desperate search to find the baby, her newfound faith is pushed to its limits.
Disclosure of Material Connection: Some of the links in the page above are "affiliate links." This means if you click on the link and purchase the item, I will receive an affiliate commission. I am disclosing this in accordance with the Federal Trade Commission's
16 CFR, Part 255
: "Guides Concerning the Use of Endorsements and Testimonials in Advertising."